The Queen of the Dead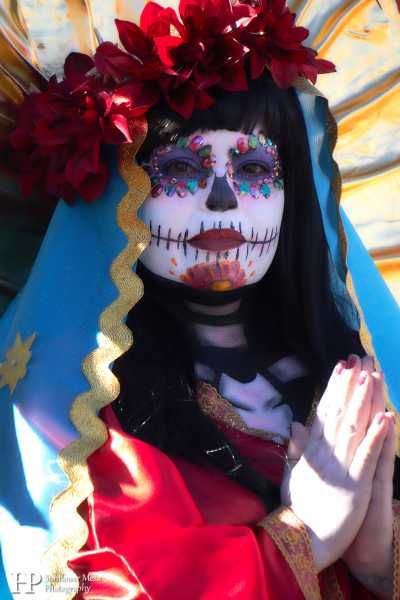 All Saints Day brings the annual Meurtos y Marigolds Parade to Albuquerque's South Valley. The parade is a high-point for New-Mexico photographers. Parade participants and watchers go all-out doning creative hand-made costumes to honor their deceased ancestors. Photographers delight in capturing the vivid and colorful costumes of the dead. The Queen of the Dead resides over the parade.
2018 Parade Photos | 2017 Parade Photos
The parade happens each year on the first weekend after All Saint's Day, this year on November 4, from 2-6 pm. It is a wonderful tradition and to date has not been ruined by over-commercialization or excessive crowds. The small crowd that your will encounter is good natured and enthusiastic about the event. To date the parade has a very organic feel - not at all commercial.
From the Parade website:
"Día de Los Muertos (Day of the Dead) is an ancient tradition rooted in Mexico, celebrating life and honoring those who have passed on. Our particular celebration draws its influences from Jose Guadalupe Posada's early 1900's portrayal of personalities and professions as skeletons or Calaveras. Posada depicted rich and poor alike as skeletons in ordinary and sometimes outrageous but tragic life settings. Printed sheets would circulate during Día De Los Muertos festivities where he would seize the opportunity for political satire and comedy. The Posada Calavera always seemed to be laughing, frolicking and up to some kind of mischief. We want the public to laugh and perhaps cry but never abhor, they must never be made to feel that they just walked away from seeing something gory, ghoulish, foul or traumatizing."
To photograph, prepare to be mobile and on foot. Parking is available on the street and in lots both north and south of the parade route. It's a very popular event so come early to find parking. The parade starts at 2pm, and parking becomes difficult by 1pm. Wear sneakers or comfortable footwear - you will be walking a lot. Bring a modest telephoto lens. Bring a liter of water, or there are street vendors. I use a 70-200 kit lens for my Sony a6000. Subjects are moving and may be close or far. I have brought a variety of focal length lenses in the past, but this one lens seemed to work well for capturing the variety of subjects in and around the parade. Weather tends to be very nice. Bright New Mexico sunshine allows for a high shutter speeds to capture motion, while allowing a reasonably large lens aperture. A 1/500th second shutter speed and F8 apature seemed to work well last year. Prepare to take hundreds of photos. Opportunities and interesting subjects abound. Its hard not to get really outstanding photos at this event.
The 2018 Dia De Los Muertos Marigold Parade is held on November 4, 2018. 2-6 pm. The Parade starts at 2pm at a staging area near the South Valley Medical Center and follows a street route north along Isleta Blvd SW, turning east where Arnal and Isleta Blvd meet, and ending at the Albuquerque West Side Community Center, 1250 Isleta Blvd. SW, with a celebration in the Park.
Bring your camera!